The day is drawing near! That means you need to GET ON those projects you've been meaning to create for Halloween! YES! Remember to MAKE TIME to create! I can really sneak up on you and I know time and time again I fully mean to make something and then the day arrives and I yell a real big "DOH!" because I forgot to make time for my projects!
My Convertible Halloween Mini Album to Banner class not only covers making a BANNER, it covers SCRAPBOOKING and creating a mini-album too. But the fun doesn't stop there. There are printables and techniques you can use for other non-Halloween projects!
Here's a description of the class:
The fun doesn't stop there. Watch as your creation comes to life as the banner converts into a coffee table mini album. Zany, I know! But zany is as zany does. Take advantage of my crafty, mad scientist mind and get ready for an adventure.
In this class, you'll learn how to create a Halloween banner with photographs and if you're not big on photos, I'll show you how to use fun images from Halloween themed patterned paper instead. Your banner can be any length, and its design will allow you to add an additional page for each new year...and another...and another. Many of the ideas and techniques I developed for this class are applicable to various themes, occasions and crafting projects. You can use them over and over until your heart's content. My fun-loving personality infuses this class with innovative and trendy ideas to keep you in vogue when it comes to paper crafting. Treat your crafty hands to some cute flower making techniques, clothespin decorating, mummy doll making, spooky fence crafting, spider web weaving, fun pocket folding, tag constructing and mini frame embellishing – all wrapped in one jam packed Halloween themed class. You'll also employ misting, glittering, embossing, painting and maybe even some dancing while you're creating your Halloween banner. I've also got a surprise or two hiding in the class for you. If you've got fun photos or a stash of spooky Halloween paper, then don't wait for the holiday to arrive, buy the class and start today!
Here's a sneak peek video of what you'll learn in the class....
Want more Halloween fun? Here is a card I've create for a very special little lady. She'll be getting this in the mail with some treats and some non-candy goodies. This Trick or Treat card features a couple design ideas I cover in the class. My favorite is the pocket template I used. It really takes center stage on this project. Just print the template onto some cardstock, cut it out, fold it and add some glue! This pocket template is part of my
Halloween Mini-Album to Banner
class. You can continue to use the design techniques in other projects (even non-Halloween ones)! Too cute!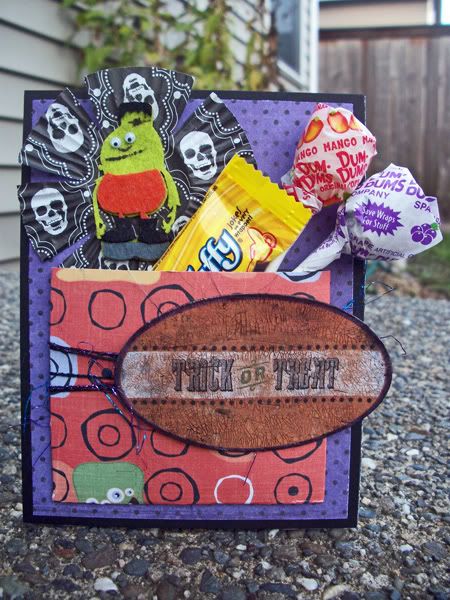 Trick or Treat Card
by
Mo Esquillo Kao
Supplies
Patterned Paper: Fancy Pants Designs, K&Co.; Ink: Ranger; Crackle Accents: Ranger; Black Acrylic Paint: Plaid; Other: Cardstock, baking cup, candy, felt sticker, die-cut, yarn; Note: The pocket was created using a pocket template included in my Convertible Halloween Banner to Mini-Album Class.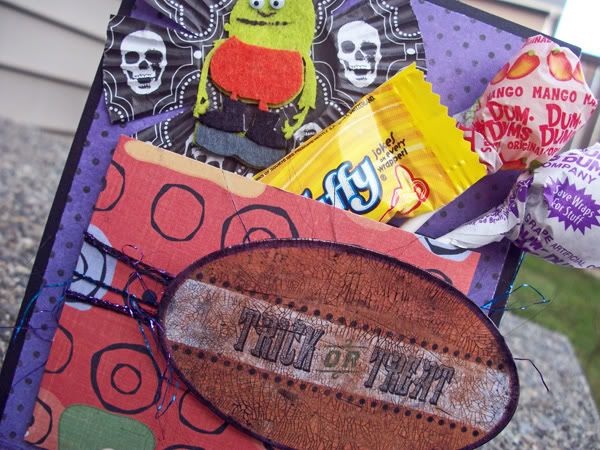 Here I covered a die-cut greeting with some crackle accents by Ranger. Gosh that stuff is fun to use!
Andrea and Shaylenne also have classes available so check them out!
Andrea's Bootiful Creations class features Halloween-inspired flowers! Just think of the fabulous projects you can make! I adore flowers in my projects...they just seem to make them ZING!
For another fun tutorial check out this Halloween Frame tutorial!