I have the most fun creating cards for cute little ones! Today I have a couple cards to share that were created and published in the May 2012 issue of
Scrapbook News and Review Magazine
! I can't tell you how enriched my life has been since the gang at SNR has been in my life. I have all these fabulous creations that have brought me joy and have passed on that joy to others in my life. Such priceless moments...
TODAY is the LAST DAY you can peep the mag for FREE! They want you to see just how AMAZING it is! And to top it off, there is a grand sale on subscriptions! If you purchase a lifetime sub, proceeds go to victims of Hurricane Sandy. How great is that! So, with the sale going on, you're not paying much more for a lifetime sub than you would a 1 year sub!
Purchase one for yourself and think about gifting another sub to someone else! I'll include details below for y'all!
Now let's talk about some of my Love Bug inspiration...
I think for this card, we had to use found objects on it. I found that bug laying on the floor while cleaning the kid's room. It's a game piece. I popped it into a old bottle cap (yes, I save these along with wine corks) and topped it off with some clear lacquer and I got myself a fun crafty piece for any project!
And on this card, we were to use chipboard. All I did was color some chipboard pieces with craft ink and there I had some pops of beautiful bright color to add to my card! I raided my stash for some stickers and vellum and viola, my card was done!

BOTH cards were projects to use us my stash. I feel so much better when I create items. So the next time you feel some guilt mounting, raid your stash and make it right!!!!

Here is the info about the mag

I copied from my newsletter

:

Take a Look Inside the Magazine for FREE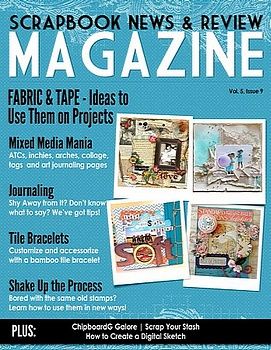 We're blowing open the doors for a good cause! We want everyone to know what an awesome magazine Scrapbook News and Review Magazine is and the best way to do it is to show you.

For one weekend only, you can have unrestricted access to Scrapbook News and Review Magazine and there are two issues available for you to enjoy.

Check out how big it is. There are literally hundreds of layouts, cards, mixed media and altered art projects as well as scrapbook and card sketches, product reviews, Featured Artist and Digital Designer Spotlights...and oh gosh, too much to list.

Head on over and see for yourself. Keep in mind that this double issue doesn't have any public submissions. This means that all content was created by our talented staffers. The reason? Because we want you to see how much you get when it's just us. Can you imagine how large an issue is when we have other paper crafters joining in on the fun???
So, how does it work? Three easy steps.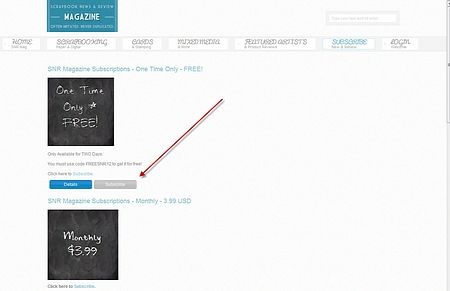 Login or register for an account.

Go to Subscribe on the top menu.

Click on One Time Only, click on subscribe and you're in!
The next issue will be available on November 25, 2012 and a mini holiday issue will be available on December 11, 2012. Don't miss them – get a subscription today while the sales are hot!!!


IN ORDER TO SEE THE MAGAZINE, YOU MUST USE PROMO CODE FREESNR12.
***
DO NOT SKIP THIS! - LET'S HELP THOSE AFFECTED BY HURRICANE SANDY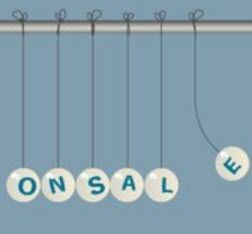 As a business owner, I've never wanted to become the type of business owner where you forget the kindness of others and those who helped get you to the top. It's been five years since we opened our doors and it's not often that we have a sale. For one reason, I don't think it's fair to those who have paid full price for a subscription. It's a yucky feeling when you buy something and then it goes on a sale a couple days later and I never want to be associated with yucky feelings.
Which is why, when I do have a sale, it's for the right reason: to help others. The devastation that Hurricane Sandy has levied upon the East Coast is unbelievable and we want to do everything we can to help.
As a way of raising relief funds for those who have lost their homes or can't get to their jobs and their lives have become broken and scary, I want to hold a very special sale.
Simply share some love and get some love. All of our subscription plans, except for monthly, are on sale. But here's how you can really help! Purchase the Lifetime Subscription (already a screaming deal before the sale) and we'll give every bit of the proceeds to help those affected by Hurricane Sandy.


The Lifetime subscription is just that. It never expires. And for a limited time, it's roughly the same amount as a one-year subscription! That's unlimited years of fabulous content for just a few bucks more than a year!


To purchase the Lifetime Subscription at a discounted rate, please use promotion code SANDY. To receive 25% off any term subscription (semi-annual or annual), please use promotion code SPECIAL.
Do it now before you forget! Don't let this awesome opportunity—for you and many others—slip by! And don't forget that you can purchase subscriptions as gifts for friends and loved ones. They'll appreciate your kindness, too!

You can even renew your own subscription. It doesn't matter how much time you have left. It will add it on to what you have.
We sincerely thank you for being a part of the Scrapbook News and Review community and for all the love and support you've sent our way over the years.

P.S. Remember that yucky feeling I was talking about? If you've purchased a subscription in the last 14 days, drop me an

e-mail

for a special thank you gift.
***
Thanks for stopping by today!