I love this layout...I LOOOOOOVE this layout...I luv THIS layout!
It's my FAVE drink! Yummmmm!
I'm not sure if you guys notice...but every so often...I bring in a piece of Hawaii into my layouts! I used that cute hibiscus (the flower) and those journaling squares by Sassafras and that Sass printed paper....aaaaahhhh...HOME!
I SERIOUSLY created this layout with scraps in plain sight! I'm not sure if I admitted this, but my scrap table is usually a MESS with odds and ends strewn about. Things out of packages, pieces of torn paper and leftover scraps are ALMOST ALWAYS covering my scrap table and floors. Gabe and Bel frequently play with buttons and leave them on the floor....and usually I just let it be!
I was feeling VERY creative so I took this old cardstock I had FOREVER and decided...I'm going to make a layout using this. Then I looked over my messy table and pulled pieces here and there and put them together....VIOLA!
Have you ever done that?
I added the letters later to match but other than that, these scrappity scraps were an arm length away! Ha ha....cool.
I got the cool idea about cutting your own scallop border freehand (from the Scrap Freak guru Bree -if I'm not mistaken)! See! It's so imperfect and yet....PERFECT! I love it.
I'm dragging all morning long without my cup of coffee at work! It's soo rough when there is a line-up at the Walk-In Clinic BEFORE we open! Ugh....cuz then I KNOW I won't be getting my coffee until later in the day!
I make my Faux Starbucks...aka..."poor man's" French Vanilla Soy Latte! Yummy!
I take my SILK (only this brand) Vanilla soy milk and add some French Vanilla syrup and a pack of that Starbucks instant coffee....yes....I said INSTANT....and ta da!
Another version is using Silk Extra Vanilla Soy Milk (the purple carton) and the Starbucks instant coffee...and done...you don't have to add any extra flavor! You could also use your coffee maker and use a BUNCH of coffee with much less water than normal (to make it concentrated) and you can set your coffee maker to a slower brew time....ta da!
And see those tags on the side? I just put pretty pieces of printed paper and tucked them in. They pull out and I can write stuff on them...but I haven't yet...maybe I'll write the "recipes" I just shared with you above!
And YES....I admit it...I have a.....FASTENATER! LOL! I used that bad boy real good...ooh...that sounds dirty!
What's YOUR fave drink? If you haven't already,
play along
!
NOW, it's time for.....
Spotlight on Handmade!
So, for my bday, I bought myself this GORGEOUS NECKLACE made by the beautiful Calia who is one of the FIRST people I met when I started meeting scrappers online a little over a year ago!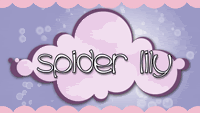 Calia, it's soooooo beautiful! I adore it! It's sooooooooo me!
And when my pocketbook allows, I'd like to have these felt flowers.....
and these distressed tags!
Beautiful work Miss Calia! You are sooooo talented girlie! LOVE YOU!
Hope you enjoyed the eye candy again! Stay tuned, I have more!